new Delhi. The tension between India and China in the eastern Ladakh region for the last ten months is now coming to an end. Giving information about the current situation in East Ladakh in the Rajya Sabha, Defense Minister Rajnath Singh said on Thursday, "I am happy to inform the House that our Approach and Sustained Talks have resulted in the development of Pangong Lake North with China and Disengagement agreement has been reached on South Bank. " At the same time, a video came out of this statement of Rajnath Singh on Thursday evening, in which Chinese tanks are seen retreating from the border. This video is also becoming quite viral on social media.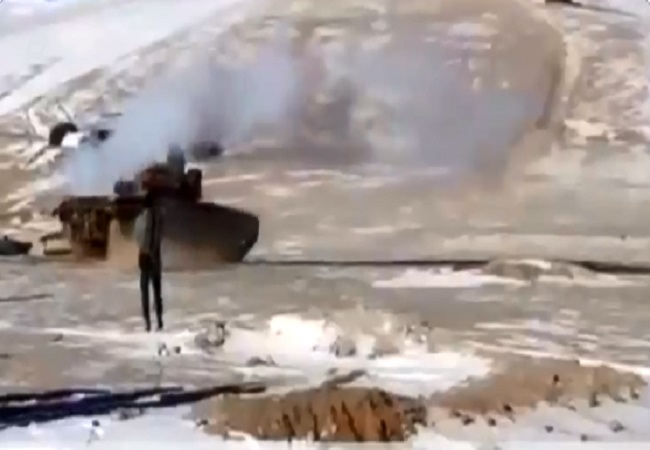 It is seen in the video that the military officers of both countries are shaking hands. After this, the army tanks of India and China Army are retreating one by one. On the other hand, Defense Minister Rajnath Singh announced in the country's Parliament on Thursday that India-China have agreed to end the ongoing dispute in East Ladakh. The armies of both countries will repel their respective forces from the north-south area of ​​Pangong Lake.
#WATCH: Indian Army video of ongoing disengagement process in Ladakh. pic.twitter.com/kXjr0SiPN2

– ANI (@ANI) February 11, 2021
Defense Minister Rajnath Singh said on Thursday that according to the agreement reached with China in the Pangong Lake area for the withdrawal of forces, both sides will remove the advance deployment in a phased manner. He said, "China will keep its troops in the northern side towards the east of Finger Eight. Similarly, India will also keep its army units at its permanent base Dhan Singh Thapa post near Finger III.
Rajnath Singh said, "I want to assure this House that we have not lost anything in this conversation." I would also like to inform the House that there are still some outstanding issues regarding deployment and patrolling on LAC. Our focus on these will be in further discussions. "
This is how people reacted on social media
Reaction of liberandus, seculars, Dhruv Rathee, 2BHK Journalist, chamchas, propagandist journalist, andolanjeevi after this video-😂😂😂 pic.twitter.com/6w6xpMFMN8

– Aditya Shaw (@ aditshaw02) February 11, 2021
Disengagement is OK but never trust Chinese, thy will come biting the moment they see some advantages.

– ░You░See░ (@yogeshcapri) February 11, 2021
Jai jawan… 🇮🇳👏

– Sandip Kote (@ yesyeskay24) February 11, 2021
Not 1962 anymore this is Modi Government
Not congress

– Crish Bhatia 🇮🇳 (@BhatiaCrish) February 11, 2021
Librandus ki jali re baba jali

– Aditya Muttagi (@ adi_muttagi910) February 11, 2021
2 minutes of silence for Rahul Gandhi.

– Desi Engineer (@ Certified90sKid) February 11, 2021
This video is only meant for Rahul Gandhi and his chaps rest all trust the words of our armed forces 🇮🇳

– Akshay (@ avi1812) February 11, 2021
.