New Delhi. In today's era, social media is such a platform, which has also become a means of getting help for the people. After 2014, most of the ministers of Modi government through Twitter, whether the late Sushma Swaraj was the foreign minister, or Suresh Prabhu, who was the railway minister in the first term of Modi government, all helped immediately on the plea of ​​the people through Twitter. Of. Apart from this, many such officials have also been seen at the administration level, who help people only on a tweet. The latest example of this is seen from Etawah in Uttar Pradesh. Let us know that a screenshot is going viral on social media, in which a student named Deepender Yadav, who was troubled by the bike's Rs.5000 challan cut, pleaded with SSP Etawah Akash Tomar and asked to help.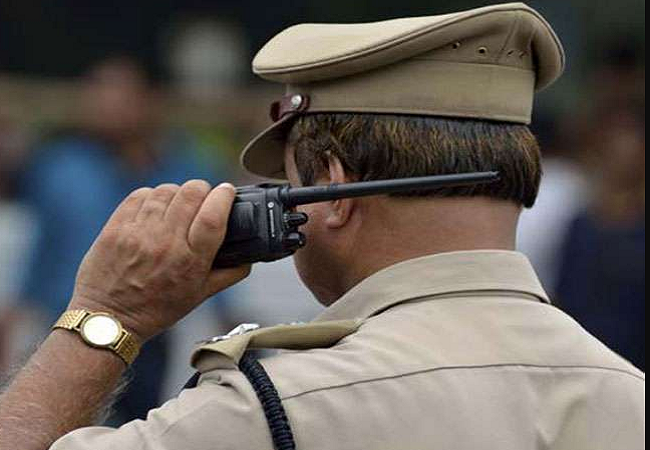 Actually, student Dipendra has also shared a note in his tweet. In which Deepender has written that, due to poor economic conditions, he is not in a condition to give Rs 5 thousand of challan. He has said that, "I was returning home by motorbike in the evening after studying, then I was stopped while checking in on the way." The challan of my motorcycle was cut off due to a number being removed in my bike number plate. "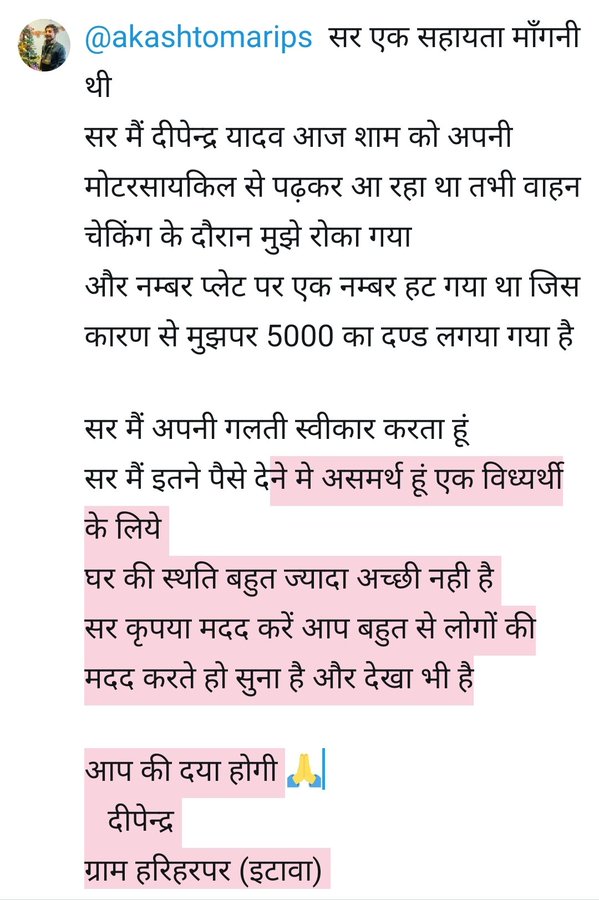 Let me tell you that Deepender has written in his shared note, "Sir, I accept my mistake, but I am unable to pay so much money, please help." Student Dependra has written that, I have seen and heard that you help people, do mine too. Please tell that in this tweet, Deepender tagged SSP Etawah Akash Tomar.
@akashtomarips Help sir pic.twitter.com/x0esSs0AhX

– Deependra Yadav (@ Deepend27572523) February 10, 2021
After this, when SSP Etawah Akash Tomar caught sight of this tweet, he canceled his challan, considering it and accepting Deepender's mistake. It is worth noting that Aakash Tomar, realizing the financial condition of the student, gave information about cancellation of the challan via tweet. At the same time, he also wished Deepender the future.
Your chalan has been canceled. Best wishes. https://t.co/0x4792ylYq

– Akash Tomar IPS (@akashtomarips) February 12, 2021
People have praised SSP Etawah Akash Tomar for this whole incident. People say that the country needs similar officers.
See how people reacted to this tweet…
Thank you very much sir
I will be your best friend and hope that every officer should work like you

Sir, you have a salute.

– Deependra Yadav (@ Deepend27572523) February 12, 2021
Such a nice gesture, IPS Akash Tomar.

– Surya Pratap Singh IAS Rtd. (@suryapsingh_IAS) February 12, 2021
This is new India, Speechless hatsoff @akashtomarips sir 🙏

– 𝑯𝒂𝒓𝒅𝒊𝒌 𝑩𝒉𝒂𝒗𝒔𝒂𝒓 (@Bittu_Tufani) February 12, 2021
That show excellent leadership in police department, where officers can take decision as per current situation and person condition, I had seen this type of example in American police officers and judicial system @dgpup @etawahpolice @Uppolice

– Er. SHELENDRA SHUKLA KAVI (BJP Media Relations Team) (@shelendrashukla) February 12, 2021
Well done Akash!

– Rohini Singh (@rohini_sgh) February 12, 2021
Mistaken .. sorry

– Parimal Kumar (@parimmalksinha) February 12, 2021
Thank you very much sir, today it seems that Etawah police officers do not consider Yadavs as enemies even in this bjp gov. Otherwise, some goons on our land in Auraiya district are not allowing us to do farming. Tired of complaining. From DM Sahab and police officers of Auraiya district.

– Dileep Yadav (@ dileepyadav145) February 12, 2021
Well done Akash. This has been a major problem in Delhi NCR as well. Huge fines are being imposed for crossing speed limits which changes every 5 kms.

– Vedank Singh (@VedankSingh) February 12, 2021
.